International Guild for NLP, Hypnotherapy and 3 Principles Practitioners and Trainers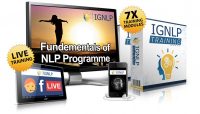 International Guild for NLP, Hypnotherapy and 3 Principles Practitioners and Trainers
Postal Address
The Innovation Centre Bay Rd Londonderry
BT487TG
Derry
United Kingdom of Great Britain and Northern Ireland
Visiting Address
United Kingdom
T:
02871282171
M: +447759831432
www.ignlp.ie
Description
Proudly Share that You Are a World Class NLP, 3 Principles and/or Hypnotherapy Practitioner


As an NLP, 3 Principles and/or Hypnotherapy practitioner or Trainer, you are committed to being the best and supporting your clients in being the best that they can be. At IGNLP©, we aim to support your commitments by providing the best professional CPD/CEU membership.

Your IGNLP Certificates and Membership ID convey a professional image and the coveted post nominal letters added to your name will show that you are affiliated to a quality and standards driven organisation.