Let's-Live Coaching Training Institute (PTY) LTD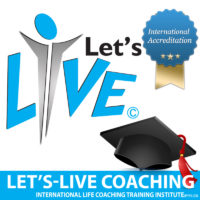 Let's-Live Coaching Training Institute (PTY) LTD
Postal Address
11 Marco Polo Street, Ground Floor, Building 6, Corporate Corner, Centurion
Highveld
Zuid-Afrika
Visiting Address
Spata Street, Tshwane Ward 78, Irene, City of Tshwane Metropolitan Municipality, Gauteng, 1615, Zuid-Afrika
T:
+27(0)12 665 1769
F: +27(0)12 643 0204
M: +27(0)76 033 4191
http://www.letslivecoaching.co.za
Omschrijving
Life Coaching Certification and Training

At Let's-Live Coaching we cultivate a SPIRIT of wisdom, integrity and understanding.

The central theme of our courses celebrates the uniqueness of each individual. Our faith, love and unique appreciation for people compel us to see every person in the full stature of their original authentic blue print and design. Every teaching and course bears witness to the weight and value of who we really are. Every technique unleashes streams of living waters from within every human being. Every programme ignites a spark and brings forth a fountain of light and unleashes an infinite sea of possibilities from within the very core of our being.

This happens in the SPIRIT of our mind, on a much deeper level than a mere intellectual and academic consent. In this atmosphere spontaneous growth is inevitable. The reality of an intimate sustainable and fulfilled life is no longer just another luxury or opinion but becomes the conclusion of our faith and believes.

Our intention: It is our intention to appeal to every man's conscience to arise to new levels of choice and liberty. Our desire for every man is to become intimately acquainted with their origin and design, so that they may be dynamically reinforced in their inner being by the Spirit of Truth.

Our Mission : Our mission is to make every man see and collectively grasp the limitless extent of their inner reservoir of potential and super human strength.

Our teachings and techniques reach far beyond the reach of a mere academic and intellectual grasp.

Our courses are carefully designed to release a new dimension of thinking and expression that leads the way to find our SPIRIT and inner core of our being.

We are thrilled with the idea that people from more than forty countries and nationalities have enrolled in many of our advance life coaching courses.
Some have chosen to follow our entire professional career path and became, Junior Life Coaches, Life Coaches, Master Coaches, and Master Coach Trainers. Many professionals have chosen our business and professional coaching path, where others are still happy on their inner exploration and self-discovery journeys. Our personal and professional journeys have made us experts in the field of human behavior modification and science. And we offer a rare opportunity for people who want to empower themselves and become extraordinary and successful life coaches. Our course materials and studies includes the following:

Coaching:
Life Coaching, Personal Coaching, Professional Coaching, Business Coaching, Leadership Coaching, Wellness Coaching, Mentoring and Coaching, Relationship Coaching, Scholar and Student Coaching, Spiritual Mentoring and Coaching, Teens Coaching, Young Adult Coaching, Sports Coaching, Management Coaching, Sales Coaching,

Skills Development:
Professional-Development, Personal-Development, Self-Development, Spiritual- Development,Self-Discovery, Leadership Development

Coaching Methodologies: (NLP) Neuro-Linguistic Programming, Hypnosis, Neuro-Science, Neuro Physics, Quantum Physics, Stress Bio-Feedback, Personality Development, Negotiating Skills, Career Development, Social Skills, Positive Thinking, Corporate Energy Psychology, Body Language, Facial Expressions, Language Precision, Micro-expression and Science, Facial Action Coding System, Communication, Time Line Healing, Quantum Healing lets live book case

More specifically our course material is based on the study and work of: Clare Graves, Leslie Cameron-Bandler, Wyatt Woodsmall, Richard Bandler, John Grinder, Tad James, L. Michael Hall and Bobby Bodenhammer, Anthony Robbins, Deepak Chopra, Robin Sharma, Daniel Goleman, Francois du Toit, Paul Ekman,Francois Janse van Rensburg, John Kehoe, Marc Steinberg, Milton Hyland Erickson, John Maxwell, Wayne Dyer and Jonah Lethrer.