New Insights Life Coaching UK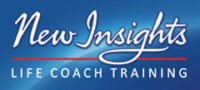 Omschrijving
New Insights Life Coach Training works to train, empower and support an international network of life coaches, inspired to bring personal freedom, confidence and growth to people from all walks of life.

Life coaching, to be authentic, has to be based on complete trust, integrity, respect and fair exchange between coach and client.

Those are the same principles that we embrace at New Insights and that we aim to uphold in the relationships that we build with our 'customers' – in other words our students (introductory course), trainee coaches (certification programme) and certified coaches.