DBCM Coaching & Mediation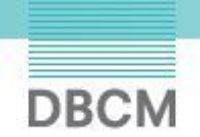 Description
Welkom bij DBCM


Goed dat u het roer in eigen hand neemt en actief wilt werken aan het vormgeven van uw arbeidsleven of privéleven!

Als u daarbij behoefte heeft aan ondersteuning dan bieden wij u die graag. Pragmatisch, oplossingsgericht, professioneel en van harte. Een aantal voorbeelden:

Gaat u niet meer met plezier naar uw werk of heeft u het gevoel dat u daar niet meer op de juiste plek zit, dan kunt u daar m.b.v. loopbaanbegeleiding verandering in brengen.

Denkt u na een aantal jaren 'pauze' over herintreden, doe dat dan met begeleiding zodat u weer beslagen ten ijs komt.

Is er binnen uw bedrijf niet langer plaats voor u? Trek dan met outplacement het initiatief voor een nieuwe toekomst naar u toe.

Zou u willen dat u succesvoller was met uw bedrijf of dat de gang van zaken binnen uw organisatie soepeler zou verlopen? In dat geval kan business coaching u zeker verder helpen. Ook sparren met een ervaren mentor kan dan nuttig zijn (en leuk!).

Of zou u meer aandacht willen besteden aan de zaken die werkelijk van belang zijn in uw werk of leven en zo de regie meer in eigen hand willen nemen? Denk dan eens aan een personal coach.

Heeft u een sluimerend of openlijk conflict op het werk of privé en komt u daar met elkaar niet uit, dan kan onpartijdige bemiddeling in de vorm van een klaar-de-lucht gesprek of mediation u helpen een acceptabele oplossing te vinden en u veel ellende, tijd en geld besparen.

Een hierin gespecialiseerde tak binnen DBCM begeleidt
(echt)paren die hebben besloten om uit elkaar te gaan bij hun scheiding. Doel hierbij is dat u samen in goed overleg en in alle rust afspraken maakt over de opvoeding van de kinderen en de financiën: scheidingsbegeleiding.