Jika Communication & Training | Ria de Villiers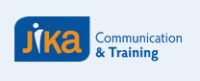 Jika Communication & Training | Ria de Villiers
Postal Address
80 Donald Murray Avenue
9301
Bloemfontein
South Africa
Visiting Address
86, Donald Murray Avenue, Mangaung Ward 19, Bloemfontein, Mangaung Metropolitan Municipality, Free State, 9301, South Africa
T:
+27 (0) 51 444 0668
M: +27 83 453 9365
http://jikasa.co.za
Description
Jika Communications & Training could not have come at a better time in the life of our democracy when there is an outcry for improving education and training both in schools and workplaces. The company has undergone changes in the past 27 years which position it as a valuable role-player in addressing this challenge. Our profound focus on improving education and training in the public and private sectors has resulted in the development of an array of customised courses, which include Sector Education Training Authority (SETA) accredited courses as well as the Continuing Programme for Teacher Development (CPTD)-endorsed courses for teacher and school management development being implemented by the South African Council of Educators (SACE).

The team is backed by sound academic achievements in the fields of education and training and the publishing materials to support our key focus areas: teacher and business training and entrepreneurship education. Our job experiences include working in teaching, training, research, project management, teacher development, publishing, monitoring and evaluation, graphic design, branding, marketing and advertising. Our organisation has ventured with great success into the field of online training, having recently converted 18 courses for the UFS Business School. Currently all our SACE-endorsed courses as well as our SETA-accredited modules are being converted to an online format. Many will be available by March/April 2017.

Extensive work experience among members of the team has been gathered while working for establishments such as government departments, private companies and schools locally and nationally.

Jika Communication & Training has undertaken projects for international bodies as well and is currently partnering the International Labour Organisation (ILO) and undertaking projects for the VVOB, the Flemish Association for Development Cooperation and Technical Assistance. Twenty seven years in the education, training and entrepreneur empowerment (in South Africa, Indonesia, Tanzania and Guinea West Africa, inter alia) have placed us as respected leaders in our field.

A key focus for 2017 is raising the profile of the CPTD – teachers are at the heart of education reform.