Meerburg & Mok Advocaten - Mediators | mr. M.M. (Martijn) Mok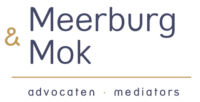 Meerburg & Mok Advocaten - Mediators | mr. M.M. (Martijn) Mok
Postal Address
P.O. Box 1586
9701 BN
Groningen
Netherlands
Visiting Address
49, Westersingel, Schildersbuurt, Oude wijken, Groningen, Netherlands, 9718CE, Netherlands
T:
+31(0)503185286
https://www.meerburgmok.nl/
Description
Welkom bij Meerburg & Mok advocaten en mediators
Advocatenkantoor Meerburg & Mok advocaten - mediators met vestigingen in Groningen en Assen telt vijf advocaten. Onze advocaten staan bekend om hun deskundige juridische dienstverlening op diverse rechtsgebieden. Elke advocaat is vergaand gespecialiseerd en waar mogelijk lid van een specialisatievereniging. Dit zorgt ervoor dat elke advocaat steeds op de hoogte is van de laatste ontwikkelingen en wetswijzigingen.

Een deskundige advocaat kan een zaak sneller voor u afhandelen, wat leidt tot lagere kosten. Onze advocaten en mediators in zowel Groningen als Assen kunnen u bijstaan in o.a. het familierecht (echtscheiding, alimentatie, gezag, omgang, verdeling), huurrecht, contractenrecht of strafrecht. Meerburg & Mok advocaten heeft daarnaast ook ervaren echtscheidingsmediators die aangesloten zijn bij de Vereniging van Familierecht Advocaten en

Scheidingsmediators (vFAS). Wij zijn van mening dat niet elke echtscheiding bij de rechter 'uitgevochten' hoeft te worden. Vaak zijn geschillen omtrent echtscheiding in goed overleg op te lossen. Kijk voor de voordelen van deze vorm van scheiding op 'echtscheidingsmediation'. Mocht u meer informatie of een gratis kennismakingsgesprek met een van onze advocaten wensen, neem dan gerust vrijblijvend contact met ons op.