Rembt | Trainen Coachen Mediation | Rembt Sickinghe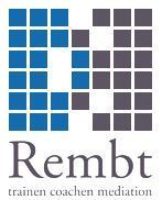 Rembt | Trainen Coachen Mediation | Rembt Sickinghe
Postal Address
Ringvaart - Vijfhuizerdijk 174
NL 2141 DZ
Vijfhuizen
Netherlands
Visiting Address
174, Vijfhuizerdijk, Nieuwebrug, Vijfhuizen, Haarlemmermeer, North Holland, Netherlands, 2141BH, Netherlands
T:
+31(0)624345916
M: +31(0)624345916
http://www.rembt.nl
Description
'Als mensen praktisch en effectief zijn in hun gedrag, verbeteren relaties en worden doelen bereikt'.
Het ondersteunen van mensen en organisaties bij het bereiken van hun doel, door het aanreiken van een middelenpalet waarmee zij zelf concreet resultaat bereiken.
Rembt tcm is specialist op de gebieden van samenwerken, onderhandelen, conflicthantering en leiderschap. We geven trainingen, zijn inzetbaar als coach en begeleiden mediation trajecten.
Met organisaties kan Rembt tcm de Heatscan uitvoeren. De Heatscan is de online scan die de werkrelatie in één oogopslag duidt, structuur geeft voor effectiever samenwerken en bijdraagt aan opbrengsten, kostenreducties en arbeidstevredenheid. Rembt tcm ontwikkelde dit instrument dat uniek is vanwege de toepasbaarheid op alle werkrelaties los van afdeling of hiërarchie.
Geen training nodig | Handzaam & snel | Verrassend & leerzaam
Na 15 jaar werkzaam te zijn geweest in diverse commerciële en leidinggevende posities, is Rembt Sickinghe in 2008 met Rembt tcm gestart. Sindsdien ondersteunt Rembt tcm kleine en grote (internationale) ondernemingen. Lees verder over Rembt's achtergrond of neem contact op.