Rob Vens Mediation & Coaching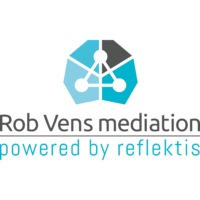 Rob Vens Mediation & Coaching
Postal Address
Torenstraat 12
NL 9988 SP
Usquert
Netherlands
Visiting Address
12, Torenstraat, Usquert, Het Hogeland, Groningen, Netherlands, 9988SP, Netherlands
T:
+31(0)595 252 119
M: +31(0)6 1164 6567
http://www.robvens.nl
Description
Over Rob Vens Mediation & Coaching.

Rob Vens Mediation inschakelen betekent dat u kunt leunen op meer dan 25 jaar ervaring in de zakelijke dienstverlening, en in het bijzonder in ICT.

Rob Vens is een door de wol geverfde mediator en coach. Waarom? Omdat hij zich vooral bezig houdt met bedrijfsvoering, processen én mensen in organisaties. En daardoor dagelijks in aanraking komt met conflicten over verschillende onderwerpen en op verschillende niveaus. En als coach begeleidt hij de mensen die werken in die bedrijfsprocessen om hun rol op de juiste wijze in te vullen.

Rob Vens Mediation opereert ook in meer persoonlijke conflicten, zoals echtscheidingen of conflicten rondom nalatenschappen.

Als specialist in conflicten waarin zakelijke, persoonlijke of complexe business- en ICT-aspecten een bevredigende oplossing van het conflict bemoeilijken is Rob Vens een veel gevraagde mediator. Hij is actief in een netwerk van mediation professionals, in de lokale, nationale én internationale markt. Rob is in de zakenwereld al vele jaren actief op alle niveaus van organisaties (van board-level tot werkvloer).

Rob Vens is gecertificeerd mediator, conflict coach en registeronderhandelaar, geregistreerd bij het Internationale ADR Register.