Bronze Baobab Coaching Group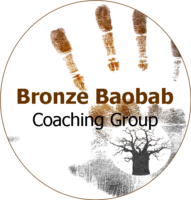 Bronze Baobab Coaching Group
Postal Address
Fotonet Suite 79 Private bag X8 Lynn East
0039
Pretoria
South Africa
Visiting Address
Embassy of the United Arab Emirates, 992, Arcadia Street, Arcadia, Tshwane Ward 92, Pretoria, City of Tshwane Metropolitan Municipality, Gauteng, 0083, South Africa
T:
+27 (0) 823351156
M: +27 (0) 834482609
http://bronzebaobab.com
Description
When it comes to the management of relationships and the development of social, emotional and spiritual wealth in a company, resistance to change often derails these processes.
At Bronze Baobab we see ourselves as partners who join hands with our clients to counteract resistance to change and to develop tailor made solutions and programmes to meet their specific needs. We use creative processes to inspire them to maximize their professional, personal and group potential.
We are in the people business to create social, emotional and spiritual wealth. That is all we do. It is our all-consuming passion and focus. We train, empower and inspire individuals to maximise their potential. This is our promise to you.