Enerqui - Lonneke Kroon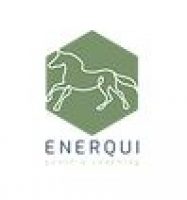 Description
Groei begint met zien.

Enerqui maakt groei mogelijk voor teams en professionals door drempels en talenten inzichtelijk te maken en beweging vrij spel te geven.

"A coach is someone who tells you what you don't want to hear, who has you see what you don't want to see, so you can be who you have always known you could be."

Vanuit mijn fascinatie voor organisatiesucces help ik bedrijven met doordachte methodes en gerichte vragen aan inzicht. Mijn sessies vinden veelal plaats met de inzet van paarden, zodat we met hun spiegel en sensitiviteit tot de essentie komen van de pijn - en de groei. Dat is direct, confronterend en ervaringsgericht en maakt coaching met paarden ideaal voor het werken met teams, groepen en (hoger) management.

Teamcoaching
Samenwerking, verantwoordelijkheid en hierarchie zijn belangrijke thema's in teamsucces. Toch blijven groeipunten vaak bedekt. Coaching met paarden maakt die frictie pijlsnel duidelijk, zodat de angel eruit gehaald wordt. Een concrete oplossing voor teams met een verstoorde cultuur, suboptimale samenwerking en achterblijvend (commercieel) succes.

Executive coaching
Coaching met de inzet van paarden legt pijlsnel leiderschap bloot: zowel de voorkeurstijl als ook het groeipad. Hoe geef jij leiding aan je team of organisatie? En hoe effectief is dat? Het bedrijfsleven verlangt steeds meer coachend leiderschap; dit is het moment voor een nieuwe kijk op jouw bijdrage daarin - en jouw groei.

Individuele coaching
Coaching is het samen kijken naar je kracht en valkuilen, en vooral naar het inzicht krijgen in mogelijkheden. Leef je nog niet het (werkende) leven dat je verlangt? Ondervind je hinder van terugkergende patronen? Loop je even vast? Een coachtraject met paarden geeft je inzicht en de eerste stap tot verandering.